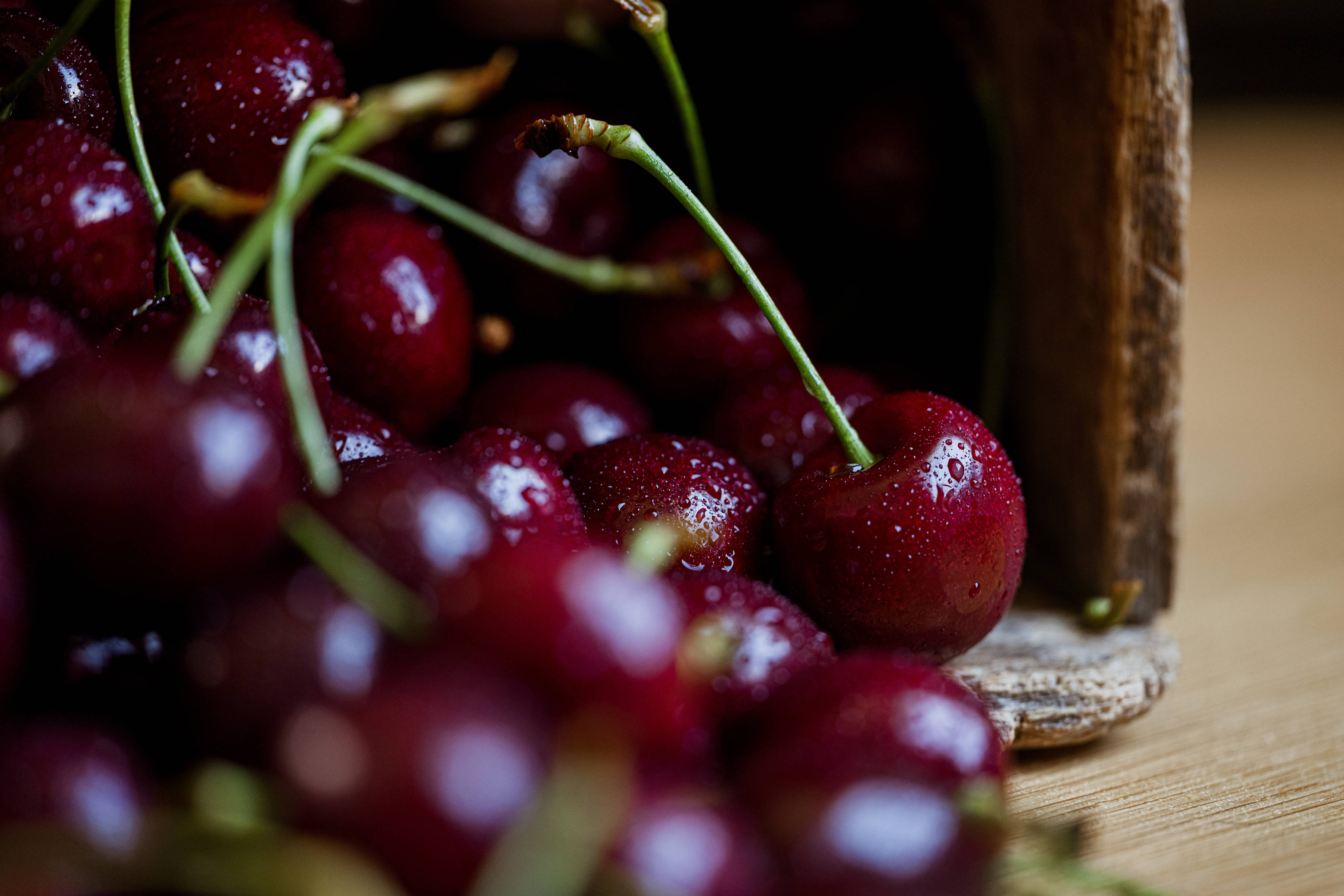 Tasmania has an international reputation for producing large, sweet, dark red cherries.
As a temperate fruit, cherry production in Tasmania benefits from the cool growing conditions, clean water and relative pest and disease free environment.
Cherries are Tasmania's major fruit export worth A$46 million annually. Currently, major markets include Hong Kong, Taiwan, Vietnam, China, Singapore, Indonesia and Thailand. Tasmania exports to more than 20 markets. Tasmania currently produces more than 50% of Australia's cherry exports.
The peak production time is January which aligns well with Lunar New Year celebrations in Asia.
The slow growing season allows fruit to mature fully, providing an intense flavour and colour. Our growers pick the fruit when it is at its very sweetest. Direct international air freight service means our fruit arrives earlier and stay fresh longer — picked, packed and arriving in Asia within 48–72 hours.
Tasmania is recognised as being free from over 30 different pests and diseases including fruit fly. Our Pest Free Area status provides access to a number of international markets where stringent import regulations are in place including Japan, South Korea, China and Taiwan.
Trade data
Main harvest season
December–February
Main varieties
Lapin, Simone, Sweetheart, Sylvia, Regina and Kordia, with new varieties including Sweet Georgia
Key markets
Local

(yes)

Domestic

(yes)

Export

(yes)
Total production volume of Tasmanian cherries 2020/21
5,038MT
Export volume of Tasmanian cherries 2020/21
2,415MT
Tasmanian cherry exports by market
Hong Kong

Taiwan

Vietnam

China

Singapore

Indonesia

Thailand

United States

Malaysia

Japan

Cambodia

Philippines

All other
Trade data source
Pest Free Area status
Being a remote island surrounded by water and aided by a robust biosecurity system, Tasmania remains free from many plant-related pests and diseases including Queensland fruit fly and Mediterranean fruit fly. This freedom means our produce can be exported with minimal, if any, phytosanitary treatment.
Major growing regions around the island
Cherries are grown predominantly in the Central North West, Coal Valley, Derwent Valley, Huon Valley, Southern Midlands and Tamar Valley regions of the state.
"Tasmanian cherries come from a natural environment. They are bigger in size and have great taste. We are very confident with Tasmanian cherries in the Chinese market."
Import pathways for cherries from Tasmania
Tasmania's relative pest free status offers trade opportunities for importing countries seeking access to Tasmanian grown produce.
This information is extracted from the Department of Agriculture Fisheries and Forestry's Manual of Importing Country Requirements which is frequently updated. Please validate this information before proceeding further.
Open without restriction

Hong Kong
Malaysia
Singapore

The importing country has no phytosanitary restrictions for entry into the market.

Open with preferential conditions

Cambodia
China
European Union
India
Japan
Myanmar
Philippines
South Korea
Taiwan
Thailand
United Arab Emirates
United Kingdom
United States
Vietnam

Open to Tasmania, without requiring any phytosanitary treatment.

Open with conditions

Open to Tasmania but requires some phytosanitary treatment.
Through the generations our growers feel the pulse of the seasons and heartbeat of this land. They understand what thrives here — they take the time to grow produce with care. Meet some of our passionate, committed and knowledgeable Tasmanian growers…
Looking to buy Tasmanian grown fruit?
Submit your interest and we will share your details with Tasmanian growers.